World's Fastest Hands™ Competition
In Frankfurt, Germany!


BATTLE OF THE HANDS™
Pro·Mark Corporation, the world's largest manufacturer dedicated exclusively to the design, production, and distribution of drumsticks, mallets, and percussion accessories teamed with NAMM, TheMusicEdge.com, and the WFD® to conduct a "World's Fastest Hands ™" competition March 29 - April 1 at the 2006 Musikmesse in Frankfurt, Germany.
According to Pro-Mark's director of sales and marketing, Pat Brown, "For the last several years, we have taken a Drumometer™ with us to the fair. It has never failed to draw, and hold, a crowd. This year, because of NAMM's involvement with WFD, and their mutual desire to raise awareness overseas, we were able to work with them to make it a true "event".
He continued, "We enlisted the aid of 'B.J'., a Pro-Mark endorser who has just finished five years traveling the world with Cirque du Soleil, as the judge. Winners received prizes of sticks, denim shirts and other accessory items."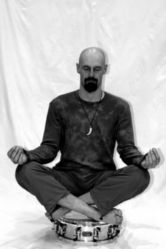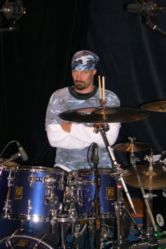 BJ Genten
Brown observed, "During the show, we seldom had less than 20-30 people gathered at our booth to try their hand(s) at the Drumometer. On public day, that number swelled considerably. At times, there were in excess of 100 people in line. Retailers looking for ways to draw people into their stores should consider such a contest!"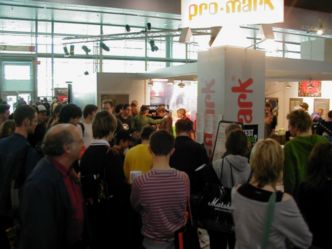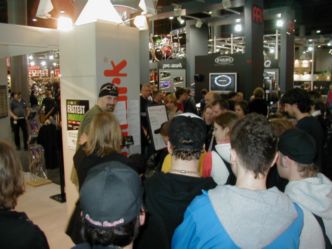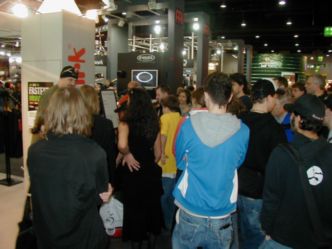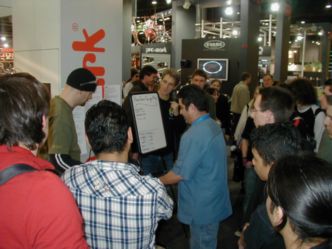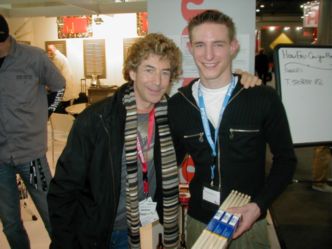 Simon Phillips presents prizes Day 1 winner, Thomas Sporrer, of Germany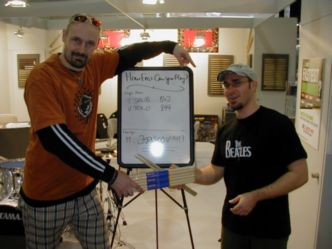 BJ Genten presents prizes Day 2 winner, Volker Polo, of Germany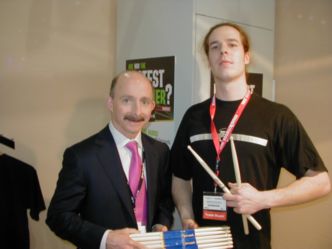 Pro-Mark's CEO, Maury Brochstein, presents prizes Day 3 winner, Robbert Walsum, of Holland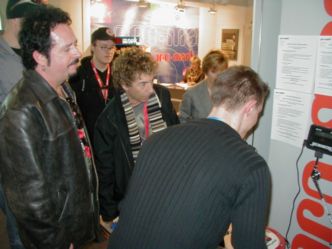 Toto's Steve Lukather and Simon Phillips ensure contestant, Thomas Sporrer, keeps 'em clean singles!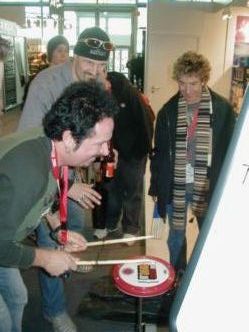 Toto's guitarist, Steve Lukather, gives it a try while drummer Simon Phillips watches!
About The Music Edge Fastest Drummer Program
The World's Fastest Drummer® Organization (WFD®) along with the fine folks at NAMM International recently launched a Fastest Drummer retail participation program called The Music Edge Fastest Drummer Program, and now the contests are taking place worldwide!
The program is set up to help storeowners create new music makers in local markets, enhance interest in drumming and build store traffic through the presentation of two in-store contests—the Battle of the Hands™ and the Battle of the Feet™.
The Fastest Drummer program originated as WFD (World's Fastest Drummer) "Extreme Sport Drumming," a concept that has been a big success since its introduction by founders Boo McAfee and Craig Alan of Nashville, TN. Previously, the program received coverage on VH1, Fox Sports Net's XSTV, The Wayne Brady Show and ESPN Cold Pizza, as well as at Guinness® World Records attractions. It was also a featured event at the 2002 Vans Warped Tour. The events have been enjoyed by thousands of kids and adults—drummers and non-drummers alike.
For more information about The Music Edge Fastest Drummer Program call
888-891-7352 (Toll free US & Canada) or 919-783-4181 or
Email: Info@WorldsFastestDrummer.com
About NAMM
The International Music Products Association, commonly called NAMM in reference to the organization's popular NAMM trade shows, is the not-for-profit association that unifies, leads and strengthens the $16 billion global musical instruments and products industry. The association's activities and programs are designed to promote music making to people of all ages. NAMM is comprised of nearly 9,000 Member companies. For more information about NAMM, interested parties can visit namm.com or call 800-767-NAMM (6266).

For more information concerning Pro-Mark Corporation, please contact:
Pro-Mark Corporation
11550 Old Main Street Loop Road
Houston, TX 77025
USA
Tel: 713.314.1100
Fax: 713.669.8000
Toll Free: 877.PRO.MARK
E-mail: info@promark.com
Web: www.promark.com