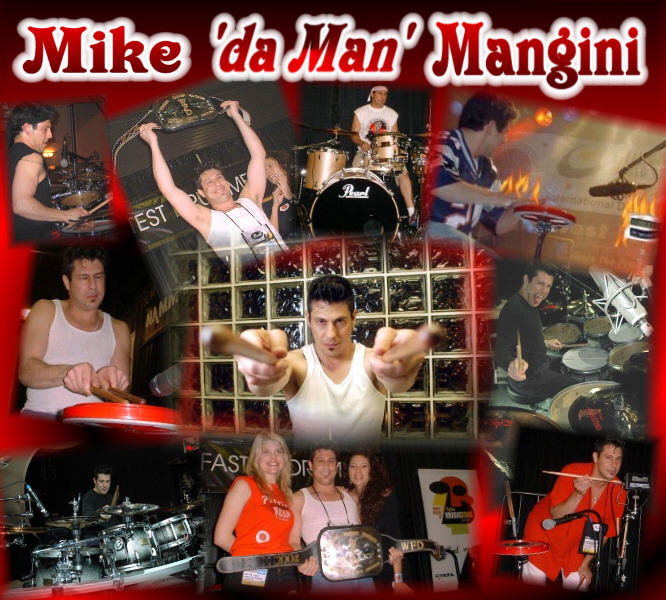 Hailing from Waltham, Massachusetts, 5'6" Mike Mangini has proven to have some of the World's Fastest Hands as he has set World Records for the fastest Bare Hands (no sticks – that's right folks, NO STICKS!) Single Strokes in 60 seconds! Mike previously held WFD World Records for most Matched Grip and Traditional Grip singles in 60 seconds.
On April 17, 2002, Mike set the record for Bare Hands of 1,138 Singles in 60. Additionally, on July 19, 2003 at the NAMM Summer Session, Mike went on to beat Art Verdi's Traditional Grip record when he blistered 1,126. Then at the NAMM Winter Session on January 17, 2004, Mike Mangini and Jotan Afanador battled and set TWO New World Records for Matched Grip Single Strokes. First Jotan broke his existing record of 1,165 Single Strokes with a new record of 1,177. Not to be out done, Mike soon topped Jotan's score and became the new World's Fastest Drummer when he played a breath-taking 1,180 Matched Grip Single Strokes in 60 seconds. Mike and Jotan again battled at the 2004 NAMM Summer Session. This time Jotan topped Mike's 1,180 when he played a smokin' 1,199!
Mike then became the 1st person in history to break 1,200 when he set a new World Record playing an outrageous 1,203 Singles in 60 seconds at the 2005 Winter NAMM Session! Mike has truly proven to have the World's Fastest Hands™ !!!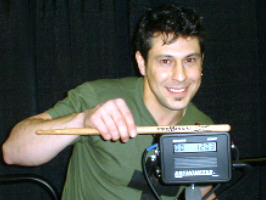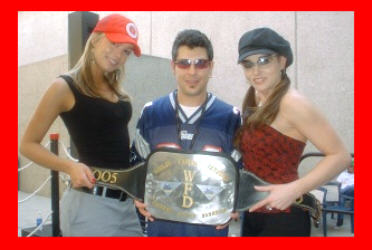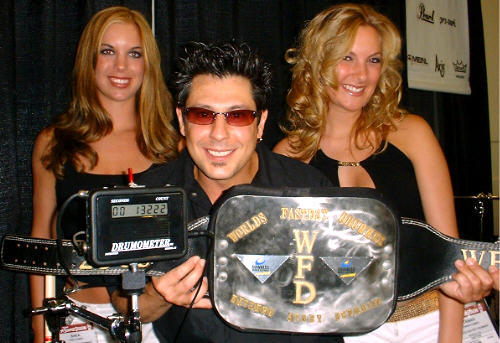 When asked how his involvement in WFD has impacted himself and/or others, Mike says, "I've been able to make more friends with common interests, teach my techniques more easily as people trust me more because of the records, and also learn more from other participants as someone always has some 'improvement' for all of us to benefit from. If not for the other participants and the events, I certainly would not have progressed as much with my speed as I wouldn't have had a reason or the support from others that what we are doing is simply just fun and worth being a part of each year. I expect more participants to catch and pass my records, and this will hopefully help me get better too."
Stats
Hometown: Waltham, Massachusetts
Height: 5'6"
Weight: 142 lbs.
Years Drumming: 36
Hobbies/Interest: All sports, Reading (physics, mathematics, and religion)
Years in WFD: since beginning (2000)
Current WFD Records: Bare Hands Singles - 1,138
Website: www.MikeMangini.com

Click here to return to previous page