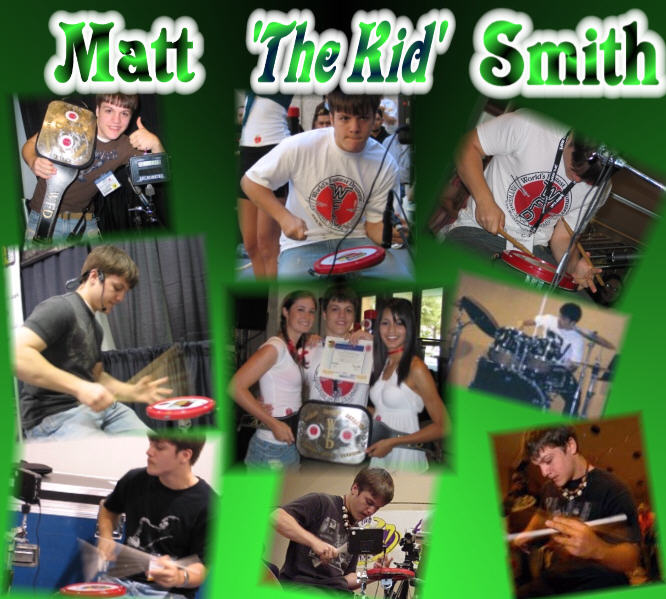 Born December 21, 1989, Matt Smith is the son and grandson of two accomplished jazz musicians. His father has served as a Fulbright Professor of Jazz Studies in Romania and South Africa, and led a celebrated big band in the 1980s. His grandfather was New Orleans' best known jazz trombonist a decade before, and a performer with several national orchestras.
Matt was introduced to the drums at age 9, when Louie Bellson (one of his father's performing acquaintances) gave him his first pair of drumsticks. Matt's official debut occured at age 12, when he performed for a jazz combo on Romanian National Television. At that time, Smith caught the eye of Vlad Popescu, Romania's most influential jazz drummer, commencing with lessons soon after. It was at this time that Matt adopted an endurance based practice regimen for his hands that featured practice of single strokes for extended intervals, a procedure he credits for much of his success as a speed drummer.
At age 14, Matt recorded his first album under his own name featuring an all star Eastern European lineup. A year later, he entered his first WFD event, and became the youngest competitor to perform 1000 or more single strokes in one minute. At Summer NAMM 2006, in Austin, Texas, he became WFDs youngest ever world champion, with a high score of 1109, extending his 16 and under world record. At Winter NAMM 2007, his 1119 left him second only to Mike Mangini in traditional grip.
Stats
Hometown: Salisbury, North Carolina
Height: 5'7"
Weight: 145 lbs.
Years Drumming: Since 1999
Hobbies/Interest: Jazz (Miles Davis and John Coltrane), DJ work, Chasing cars


Years in WFD: Since Summer 2005
Current WFD Records: 16 and Under Fastest Hands World Record - 1109, Youngest World Champion (16), Youngest to break 1100, Youngest to break 1000.
Website: http://matt.thsmith.com