Jotan "Shakin Vibration" Afanador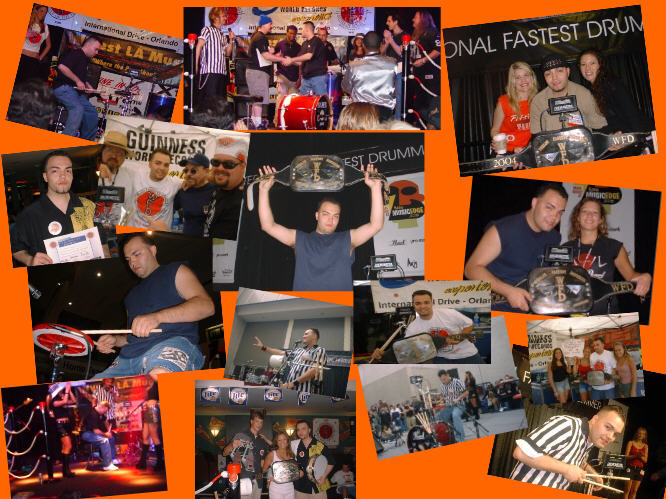 Straight from the Bronx, New York, 5'9" Jotan Afanador took up the drums at age 2 and began his drumming career playing pro gigs at age 7! Jotan first met up with the WFD in Pensacola, FL where his amazing soloing skills allowed him to dominate a drum fest held by Ron Kaye's Music School. Jotan again met up with the WFD when he entered and won The Battle of the Hands at the 2002 World Finals sponsored by West LA Music held at The Musician's Institute in Hollywood, CA. He set his first Battle of the Hands World Record of 1,123 Singles on August 10, 2002 when the Van's Warped Tour played Randall's Island in New York City.
Jotan currently holds the Battle of the Hands World Record – 1,199 Singles in 60 Seconds – and has appeared on The Wayne Brady Show, ESPN's Cold Pizza, Fox Sports Net's XSTV, and Fox Sports Net's Best Damn Sports Show Period. He was married October 9, 2004 to Gospel Artist, Raquel Lynn Afanador, and his father is a drummer and minister in Puerto Rico!
When asked about his astonishing drumming talent, a spiritual Jotan humbly states, "Any talent I am blessed with is a gift from God."

Stats
Hometown: Bronx, NY
Height: 5' 9"
Weight: 180 lbs.
Age: 23
Years Drumming: 21
Hobbies/Interest: baseball (Go New York Yankees!), marshal arts, cooking, music, watching kung fu movies
Favorite Food: Spanish
Years in WFD: 5
Previous WFD Record: Match Grip Singles - 1,199
Website: jotanafanador.net